DAVE MATTHEWS
"It's a good focus; to try to bring people together rather than seperate them"

Dave Matthews has chronicled his life's travels so often that when asked, he can rattle off the details without pause. It goes like this: Born in Johannesburg, South Africa, in 1967. Moves two years later with his family to Westchester County, N.Y., where his dad, a physicist, goes to work for IBM. Then, in the early `70s, to Cambridge, England, before returning to New York- where his dad died in 1977. The family moved back to South Africa in 1980, where Matthews went to a few different schools and "got more wise about the evils of government, there and in general." O.K.; pause for a breath.

The key move for Dave Matthews Band fans, of course, was when he relocated in 1986 to Charlottesville, VA., where his parents had lived before he was born. Though he also logged time back in South Africa and in Amsterdam, it was in Charlottesville where Matthews - who took piano lessons as a child before picking up the guitar at age nine - became part of the local music community and hatched the idea for his own band. "I didn't really have a vision, or a plan," says Matthews, acknowledging that some of his musical sensibility came from spending time in so many different places as a child. "I'm sure it gave me a little bit of an openness. The most diverse music in the world is in America, `cause there's so many different cultures here, but what tends to be pushed to the top is often a narrow view of what there really is. So maybe (his travels) just gave me a wider pool of listening."

Matthews says his principal goal with the band was to surround himself with the best players possible. To this day he remains "amazed" that he was able to recruit and retain the four musicians he rather modestly refers to as his superiors. "I was just looking for people that I liked," explains Matthews, who feels he's "gotten a bit better" over the years. "Could I play with them was more of the question, I think. We just ended up fitting together. The band wasn't something that I was looking for; it was very much I loved the people I asked to play with me. There was a connection at the beginning, and I think what we've been about is not some grand scheme but more the spirit of everyone, which is why we ended up with this band and why it sounds like it does."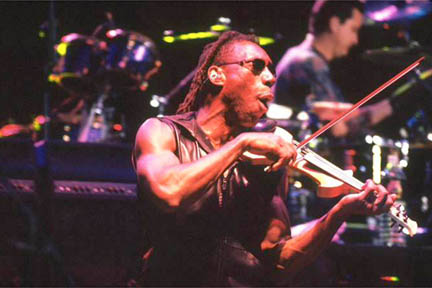 BOYD TINSLEY
"When I'm really into the music, my whole body, my whole soul is into it"
As the last one to join, violinist Boyd Tinsley may be the member of the Dave Matthews Band least surprised by its success. "When I first heard this band, I knew it was something special," says Tinsley, who was asked in early 1991 to play on the demo song "Tripping Billies" and hooked up with the band full-time later that year. "When I first heard these songs played by these musicians, it was some of the most powerful stuff I'd heard in a long time. It doesn't surprise me it works." Tinsley certainly has the musical grounding from which to judge. A native of Charlottesville, who grew up in the same neighborhood as drummer Carter Beauford and saxophonist Leroi Moore, Tinsley was raised in a musical household. His father directed the church choir and an uncle played upright bass and trumpet in local jazz bands. There was a steady stream of Motown pumping out of the family stereo, as well. Tinsley says he "stumbled into" playing the violin. His first desire was to play guitar, so he signed up for a middle school strings class - only to learn, of course, that it was for orchestral instruments. He was intrigued enough to take up the violin and quickly became proficient, though he notes that "my dog and my family hated me for a good couple of years" while he learned. As a teenager, he helped found the Charlottesville-Albemarle Youth Orchestra (which DMB bassist Stefan Lessard joined years later) and studied under the tutelage of Isador Saslav, the concertmaster of the Baltimore Symphony Orchestra. That was a pivotal moment for Tinsley. Saslav wanted him to move to Baltimore to further his studies, but at 16 the young violinist wasn't ready to leave home and make the sacrifices it would require to become a virtuoso. "That's when I decided I didn't want to pursue classical music seriously," Tinsley says. Instead, he immersed himself in the works of highly regarded players such as Stephan Grappelli, Jean-Luc Ponty and Papa John Creach, all of whom worked in the realms of jazz, rock and blues. He further expanded his chops while attending the University of Virginia, where his fraternity, Sigma Nu, held periodic coffeehouses. With open to the public jam sessions that lasted all night, they attracted not only the cream of the local crop but visiting musical luminaries such as Hot Tuna/Jefferson Airplane guitarist Jorma Kaukonen and Muddy Waters sideman Bob Margolin. His own projects- a duo called Down Boy Down and an electric group under his own name- were set aside when the DMB opportunity was presented to him.

Tinsley says he plans to record a solo album some day, but his chief extra-band activity is modeling. He has appeared in spreads and on billboards for JanSport, a runway show for Cynthia Rowley and recently modeled a Tommy Hilfiger and Gucci ensemble in the Los Angeles Times. "I just like clothes," he says. "It's definitely sort of a breather from the whole intensity of getting on stage or recording an album. Put some clothes on and take a picture? Hey, why not."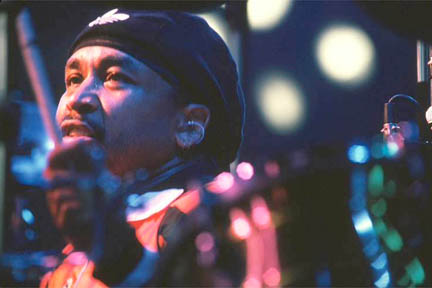 CARTER BEAUFORD
"There are so many different elements in our music, you really can't put a label on it"
Carter Beauford started on his music career at an early age – three years old. That's when his father, who couldn't find a baby sitter, took the toddler drummer-to-be to see the legendary Buddy Rich, which Beauford says "put the icing on the cake for me as far as what I wanted to do and what route to take. Believe it or not, I knew it was what I want to do then," Beauford says. "My dad was a jazz trumpet player and kinda hipped me to the whole music scene. And he made it look like so much fun I decided to go ahead and pursue it." Charlottesville, VA native Beauford largely lived behind his kit as a youth. "As long as I was on the drums, I was fine," he says. Beauford played his first professional gig at age nine with a jazz-fusion outfit led by local luminary Big Nick Nicholas (an associate of John Coltrane's). Eventually, he wound up in a Richmond, VA based group called Secrets, which a young Dave Matthews used to watch before approaching Beauford and the group's saxophonist, LeRoi Moore, to help him work on some material he was developing. "I took a listen to it, and it was kind of interesting, the way he played and the way he wrote music" Beauford says. "Before long we were in the studio recording, not our first record, but something that we could go back and listen to and play for friends and see what people thought. We played it to friends and people were whooping and hollering over that sound we generated." Obviously, it was successful. Beauford's work with the Dave Matthews Band has generated a demand for his playing on others' records as well. Since the release of "Before These Crowded Streets," Beauford has shown up on albums by Carlos Santana, Blues Traveler's John Popper, Victor Wooten of Bela Fleck's Flecktones and Robin Andre (AKA Boy Wonder). "Outside work keeps the creativity flowing for me," Beauford says. "I feel it's important to get in there and try to tackle someone else's music and play a little differently, and then bring it back to the band."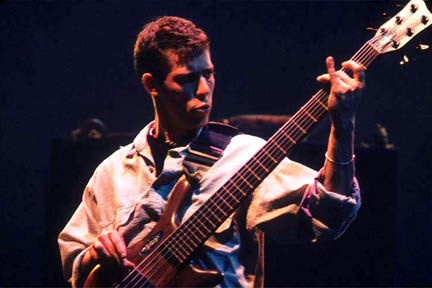 STEFAN LESSARD
"The great thing about this band is that you get this great mix of different styles"
Bassist Stefan Lessard is the youngest member of Dave Matthews Band, by a good seven years. In fact, he was just 16 when Matthews whisked him away from school to join him, drummer Carter Beauford and saxophonist LeRoi Moore in their fledgling band, which made for some interesting situations when the group, with its underage bass player, were booked into bars and clubs. "Yeah, there were a couple of times I was rushed out the back door `cause some cops in front were asking for IDs," Lessard remembers with a laugh. "And since I wasn't legally allowed to be drinking, I was usually elected to drive the van. But (age) was nothing too major, and never a big issue as far as the music was concerned." Lessard certainly seemed to be fated for a career in music. Born in Anaheim, CA, both of his parents were musicians, which led to the family's move to Charlottesville, where the young Lessard took up violin and piano before moving on to guitar. He started playing bass during his early teenage years, after developing a taste for reggae and then, through his high school music teacher, jazz. "It made sense for me to start playing jazz," says Lessard, who quickly switched from electric to upright bass. "It was a good way to practice scales and then play along with the music. I kinda faked it for awhile." Nobody knew, however, as Lessard started popping up, jamming in local clubs and coffeehouses. His playing caught the ear of Matthews, who was a friend of Lessard's music teacher; that led to the invitation to join the band, which Lessard accepted - though it meant switching back to electric bass and quitting school in order to be able to travel for gigs. "I had my parents' backing; they were a little iffy when I first dropped out, and so were the rest of the guys in the band," says Lessard, who eventually got his GED and even spent a month studying music at Virginia Commonwealth University. "To me, it was all education." In fact, Lessard - who recently moved back to Charlottesville from Woodstock with his wife and their young son, Diego (AKA Diggy) – is continuing his education via music classes on the internet and plans to return to a formal classroom situation, someday.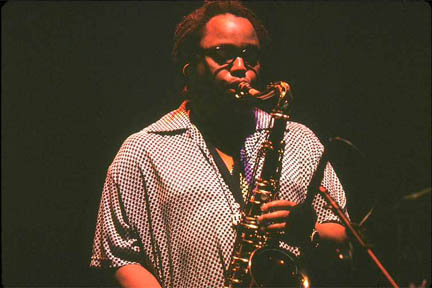 LEROI MOORE
"I have plenty of space to improvise, to try new ideas. It's almost better than a jazz gig"
LeRoi and Carter have been jazz compatriots for years, playing together at paying gigs and informal jam sessions. "Jazz is probably my main influence," admits LeRoi, who also has classical training. "But at this stage I don't really consider myself a jazz musician." For him, DMB remains a challenge because there is room to explore, to respond to the expressions of the other four players. "I have plenty of space to improvise, to try new ideas," says LeRoi, whom Dave credits with arranging many of the songs he writes. "It's almost better than a jazz gig."