Friends of the DMB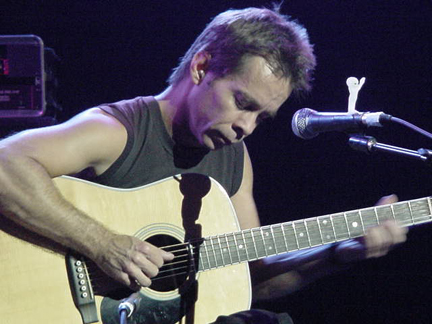 TIM REYNOLDS

Tim Reynolds is a guitarist and good friend of the band. He and Dave have played together for longer than DMB has played together. Tim played on each studio CD up until Everyday, and guested on Live at Red Rocks as well as Live at Luther College, a show featuring just Tim and Dave. He often joins the band on tour when not touring with his band, the TR3. Rumors have circulated since the band's inception that Tim would one day join the band, but nothing has ever become official. TR3 broke up in the fall of 1997 and Tim moved to Santa Fe, NM. He's now touring with bassist Houston Ross and drummer Johnny Gilmore under the name of TR3.

Tim Reynolds and Dave Matthews frequently play acoustic shows, including tours during 1996, 1997, and 1999. featuring DMB's music as well as several songs penned by Tim, including "Chatterbox" and "Stream."
BUTCH TAYLOR
Butch, much like Tim Reynolds, has become a sort of "6th member" of the band. He provided keyboard work on DMB's 1998 release Before These Crowded Streets, and is also featured on the Listener Supported live EP. Butch has been touring with the band off and on since 1998, providing backup keyboard work and improvising fantastic solos. During the Summer 2000 Tour, Butch played all but a few shows, and rumors said that he might officially join the band, but nothing official has ever been made of this rumor.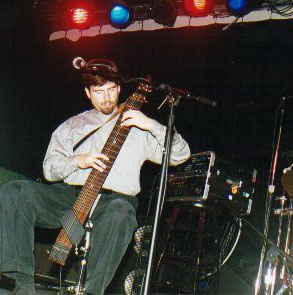 GREG HOWARD

Plays an instrument known as the Chapman Stick (similar to the upright bass.) He plays on Minarets on Remember Two Things and played with the band on 7.6.93 and 7.7.93 when Stefan cut his hand and couldn't perform. Also played between sets at Trax on 9/7/93. His catalog includes four albums called "StickFigures","Shapes", "Code Magenta", and "Sol", the third with LeRoi Moore and Dawn Thompson (wife of John D'earth). The band, also called Code Magenta, plans to record a new disc in the next few months. Also he has a CD with Tim Reynolds called "Transmigration"; and two cassette-only releases with Tim called"Face of Sand" and "A Collection of Spontaneous Improvisations." All three are put out under the name Sticks And Stones. These can be acquired by writing Greg directly at GBHoward@aol.com. His web site is http://www.greghoward.com. Greg could once be seen at Miller's in Charlottesville every Monday night, but he moved out to California in May of 1998. Greg played his Chapman Stick on Before These Crowded Streets for the studio version of The Dreaming Tree. During the fall 1998 tour, Greg played several tourdates with the band.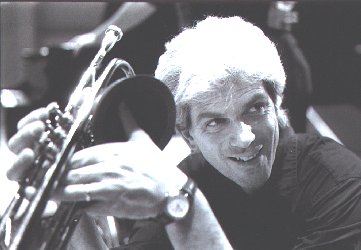 JOHN D'EARTH

John D'earth is an internationally recognized jazz trumpet player and composer who has performed with and/or written music for artists as diverse as Miles Davis, Quincy Jones, Buddy Rich, Bruce Hornsby, and Dave Matthews. He has appeared on over forty CDs records and film scores and performed all over the United States. in Canada, Europe, South America, mainland China and on television.
Know primarily as a jazz musician and arranger (he wrote the string arrangements for the Kronos String Quartet's appearence on Halloween and The Stone from the recent Dave Matthews Band CD Before These Crowded Streets) he has had an unusual career and made some unconventional choices. John was the teacher of Stefan Lessard, and was the one who set up a meeting between Stefan and Dave Matthews.
His CD, John D'earth - Thursday Night - Live At Miller's, produced by Greg Howard is a freewheeling live performance before the audience that keeps coming back to see what D'earth and his band are going to do next with, and to, their tunes.

"I've known John D'earth for a long time. We don't see each other often enough but when we do get together I always learn something. John is first rate. He's a great spirit, a great friend, and a great teacher...one of a kind."
- Dave Matthews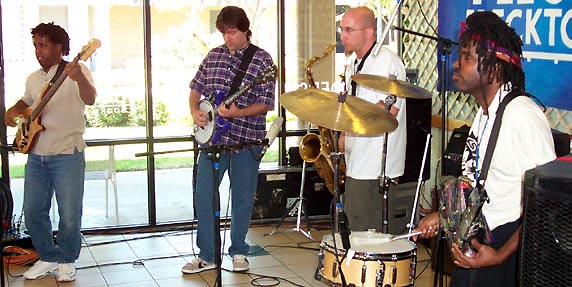 BELA FLECK AND THE FLECKTONES
Considered one of the most innovative pickers in the world, Fleck has not only expanded the boundaries of traditional bluegrass with his banjo, but also those of other genres such as jazz and folk. Fleck first started playing the instrument at the age of 14 and shortly thereafter began to play out live. After joining the seminal, Nashville-based New Grass Revival in 1981, Fleck honed his craft while participating in the renowned bluegrass scene of the area. In 1989, he took the role of bandleader and assembled a group that took Fleck's namesake, calling themselves the Flecktones. The band, which is still moving forward to this very day, features the Wooten brothers, Victor and Roy ("Futureman") holding down the rhythm section, as well as Howard Levy providing keys and harmonica.

Throughout his accomplished career, Fleck has amassed numerous honors, most significantly, nominations for a Grammy in all of the following categories: bluegrass, jazz, country, pop, composition, Christian, spoken word, and world music. Most recently, Fleck has signed a record deal with Sony Classical and has also, with the Flecktones, released a new studio album, Outbound, on Columbia Records.

The Flecktones relationship with DMB has been an ongoing one. Bela and the group have previously opened for DMB, and Fleck appears on Before These Crowded Streets and the Warehouse 5 CD. Additionally, Carter has been known to occasionally sit in on Fleck-related projects.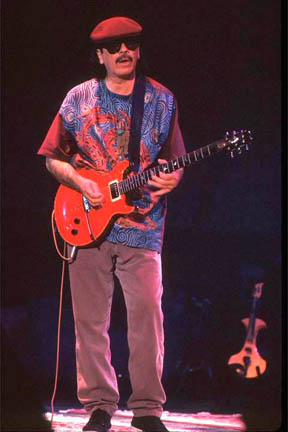 CARLOS SANTANA
After 30 years of making great music, Santana still has a sense of wonder and passion, playing sold-out concerts in the '90s. In 2000, he received ten Grammy nominations for his blockbuster commercial album "Supernatural," followed by Best Album honors at the American Music Awards. The commercial come-back has put the rock guitar maestro on top of the charts for the first time in 30 years, one of the most surprising come-backs in music history. He made a sweep of the Grammys on February 23, 2000, leading the Latin pop-wave.
Santana collaborated with Dave Matthews and Carter Beauford for the hit single,"Love Of My Life," off the supernatural album. During the Summer 1999 Tour, Santana open up seven shows for DMB.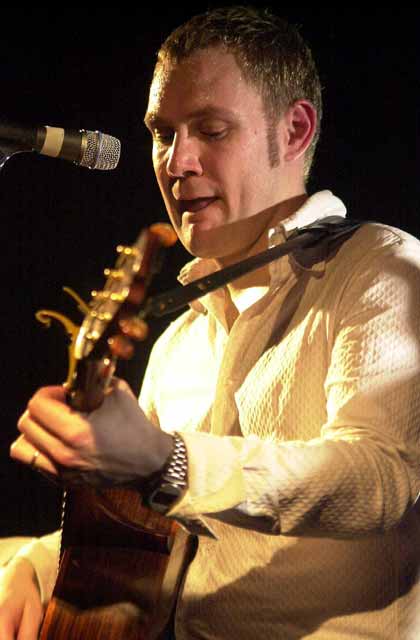 DAVID GRAY

David Gray is the first artist to have signed with Dave Matthews' newly founded record label, ATO (According To Our) Records. He opened up for the band during the Summer 2000 Tour, and is planning a large tour of his own this Spring.

David, a Welsh singer-songwriter, he released his self-titled debut album in 1993 to glowing reviews and earned him a dedicated cult following. "Flesh," his 1994 follow-up, also received positive reviews and expanded his audience. After 1996's "Sell, Sell, Sell" failed to break Gray commercially, he did not resurface until issuing 2000's "White Ladder" through avowed fan Dave Matthews' ATO imprint.




PETER GRIESAR


Peter Griesar was the original keyboardist and harmonica player in Dave Matthews Band. He joined the band shortly after its inception and played with the band until his last show with the band on March 23, 1993. By all accounts, he left on good terms. According to legend, he didn't like the rock and roll touring life style and when DMB began to tour away from Virginia, he got out. Dave has said that the parting with Peter was amicable and that they are still friends. Peter wrote "People, People" and Dave has mentioned possibly recording that song for a future album.

Peter sang and played keyboard with the Charlottesville group "The Ninth" until 1997, when he began doing solo work. He released a one-night project, entitled "Ho Ho Hum" to a few dozen friends as a Christmas gift. Spurred on by their compliments, he began performing with Charlottesville musicians Rafael Wintersberger, Lauren Hoffman, David Sickman and Ben Jacobs under the name of "Supertanker". He released an album in February of 1998 entitled"Disposable Love Songs" and 5-song EP in July of 1998 entitled "Banana." Both were solo works.